Earthstock 2019 is soon here!!!!  We'll love to see you there.
May 10, 2019 10am to 1pm at the Crystal Ballroom (the same location as always)
As in the past, we'll have superheroes, photobooth and great music!  This year we have some exciting additions that will be a surprise.
Here's a video of last year's Earthstock.  Here's a link to our Facebook page.
If you would like to volunteer, please contact Tim Hallrud at THallrud@gmail.com
Earthstock is now in it's 27th year, when in the gym of a defunct high school, 60 students gathered to celebrate life. The students came from schools all over the Portland area, all at the request of a young man named Joseph Janson. Joseph was a pure soul, and artist, a dreamer and just a bit of a ladies man. Muscular Dystrophy didn't hold him back. Joseph asked if we could have a dance and so we did.  Fast forward to 27 years later and Earthstock has become an amazing event. From the Crystal Ballroom, to the Superhero Coalition, Earthstock has become a legacy. I want to say that Earthstock could not occur with out the support of friends and family, and I want to thank some of them now.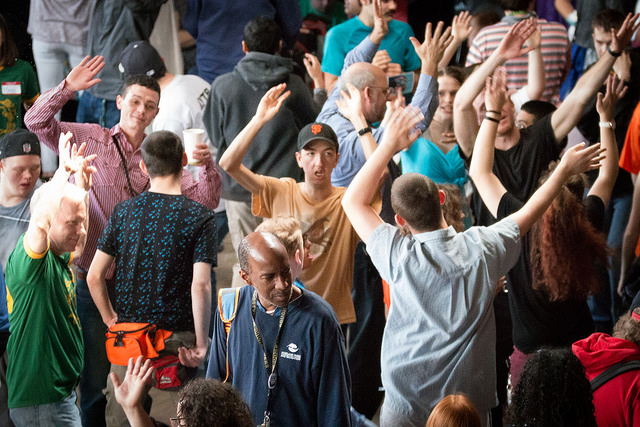 Tim Hallrud, when I was introduced to you, you exuded energy and love. To this day the energy has only grown. You have become the driving force behind taking Earthstock to the next level. From video documentaries to fundraising efforts you are truly a force for good. Thank you!
Christy Howell, the smile that never ends. It is such a relief to have someone with the talents that you bring to the table. You are the person who sees the potential of our ideas, and help keep some of them grounded. With all that you have been through this year, it is amazing to see you put so much love into this event.
Lisa Day is my rock. As I have moved away from Madison, Harrison Park and taken my job at the district office, you remind me every day of the amazing times at Madison when Earthstock really started to explode. I have always believed that the students who help support Earthstock get as much from the dance as the students who are there to attend. To see so many of these students find their way to serving this community as teachers, counselors and volunteers is very rewarding to me.
Lenny Gotter, photographer extraordinaire. Lenny and his photobooth have help take Earthstock to the next level. Over 700 photos every year are sent home so students can have a reminder of the day. Lenny's professional skills and dedicated support help make the dance a real prom.
My wife, Roo gives me the freedom to be a stressed out nervous wreck for the weeks preceding Earthstock and a comatose vegetable for the afternoon and night after. She is my world.
My family. My family has always been supportive of Earthstock, both physically as well as financially in some of the leaner years. When Aaron and Ma show up I know the event has really begun. Thank You
All the Volunteers. Former Madison Students, co-workers, and friends of friends you have all been so loyal to Earthstock. I am honored to have your support every year.
Finally to all of the students and staff, every year you make it down to celebrate and share your lives. No complaints, no worries, only celebrating. As the DJ, to have the ability to play such a wide array of music, it makes me very happy. From the YMCA to Here come the Hotsteppers, the latest from Drake to a little Marvin Gaye, with every song, people danced and had fun. (Even the Chicken Dance)
Thank you all for the unique things you bring to Earthstock. You truly rock my world.